WIZARDING CRIMES : STOLEN LOVE?
By Samantha Bradley
FEB. 2016, DIAGON ALLEY, ENGLAND - Criminal activity has been on the rise throughout Diagon Alley lately, and it all seems to have to do with the time of year. Yes, disturbing as it may seem, thousands and thousands of bottles of love potions have been stolen from various establishments throughout the wizarding world, and not just in Great Britain, either. This trend has been seen occurring throughout the entire world, or perhaps I should say anywhere there's a wizarding school of some sort. This nefarious activity made this reporter extremely curious, and so I decided to try to get to the bottom of things and interview one of the shopkeepers of Diagon Alley regarding the matter. What follows is quite revealing.

"Oh, the same thing happens every February," said Stephen Jenks, the clerk at Slug & Jiggers Apothecary. "These crazy young witches and wizards start thinking about Valentine's Day, and the very first idea they come up with is love potion. They're too broke to buy it on their own and too stupid to know how to make it, so what do they do? Why, they break into the shop and steal all the Amortentia, along with any other love potion they happen to find. It's just a disgrace, really. More and more of these kids get involved in it every year, and now it's becoming an international trend. It wouldn't surprise me if even the Muggles know about it."

"I hadn't really noticed," I explained. "I suppose I've been too busy with my work to have paid much attention till now."

"How could you NOT notice?" Jenks replied angrily. "These kids are about to put me out of house and home. You would have to be living under a rock to have only noticed it now."

With those words hanging in the air, Mr. Jenks turned away, picking up his broom and dustpan and continuing to sweep the shop.

So, there you have it. The Daily Prophet has no solution for this problem, unfortunately, but it would seem that these kids are going to do whatever they can to get the love potions no matter what. It would seem that it might be a good move to try and make sure that they have the supplies they need, preferably potions they have made in Potions class under the supervision of their professor. It is clear that the kids are going to continue using the potions no matter what we do, but at least we can stop all these break-ins that have been occurring. Now, to see if anyone is willing to listen to me.


ECONOMY : The 'Kaching' of Valentine's Day
By titanicfan101
Love is in the air - Valentine's day is the next major holiday coming up and with this major holiday comes the purchasing of flowers and chocolates.
In 2013, over 1.9 billion dollars was raised by people buying flowers, which include tulips, roses, daisies, daffodils, and sunflowers. The most popular flowers during this holiday would have to be roses and tulips. Over 224 million roses were grown for Valentines day. In 2013, over 65% of men bought flowers for this special day.
Chocolates are also a great seller for Valentine's day. Over 1.6 billion dollars will be spent on candy and/or chocolate for this year's Valentine's day.
There are many different people expecting a Valentine's day proposal or a marriage ceremony.
We recently spoke with Ginny Potter (Weasley) who had this to say, "Valentine's day is the most important day of the year to some women, and in my case, it is".
Jewelry is a huge, huge seller for this day as well. Valentine's day in 2016 can expect over 3.3 billion dollars to bring in for rings, necklaces, bracelets, diamonds, gold, and silver.
Pets are also important for this day, not just human beings. Over $4 is expected for the average pet owner to buy things for their pets on Valentine's day.
Valentine's day, though typically expensive, can be cheap if you know where to look for the right items to buy for your special someone, but it is hard to find that perfect gift. Luckily for you, Daily Prophet readers, we can help you find some gift ideas.
A few ideas are as follows: Take your sweetie on a scavenger hunt, meaning that you create clues for her or him to lead up to a big reveal or a romantic night. Another idea is to create your own romantic evening. You can do this by making her/him a special dinner, doing a movie night with romantic movies such as The Notebook, Titanic, or Moulin Rouge. These ideas can cost roughly around $40-50 in price and can also be cheap compared to other days of the year and other ideas that can be rough and may be too hard on the wallet.
We here at the Daily Prophet don't expect much to happen for Valentine's day this year. I also don't expect much to happen in any of the common rooms for this day either, as the new term had just begun.
I predict that over 45% of Hexians will be buying things/items for their special friend or someone here on HEX.
From all of us at the Daily Prophet,
REGIONALS : LOVE AMONGST ALL OF US
By Rosie_may
It's that time of year again! Valentine's Day is once more upon us. Florists are running dangerously low on flowers, desperately waiting for their next shipments, cherubs are prepping their harps and couples are waiting, wondering if today is going to be the day when the loves of their lives are going to ask the most important question? Have you bought today's issue of the Daily Prophet? Well, maybe that's the question some people will have. People, Muggles and wizards alike, are running around to try and find a unique way of expressing their love for their significant others, and some have more style than others.

Take for instance twenty-five-year old Alec Lockwood of Hull, Yorkshire. Having met the love of his life during his years at Hogwarts, Alec wanted to do something romantic and beautiful for this year's Valentine's Day as it would be even more special as he popped the question! Having hired a fleet of dancing cherubs, he surprised his girlfriend, twenty-four-year old Emma Watson at her place of work, The Ministry of Magic, just as she was leaving work for the day. As the crossed she atrium and passed the fountain, confetti exploded out of the walls showering her in tiny red love hearts as 'I Dance a Dream', one of Celestina Warbeck's greatest hits started playing softly in the background. The troops of cherubs floated in from the ceiling before setting off in a well-rehearsed waltz around her. And there, stepping through the security gate with a grin so wide the Cheshire cat himself would be jealous, was Prince Charming. Striding along, he dropped to one knee in front of her, a gorgeous diamond ring in a box held out to her. It surely was a day that neither of them will forget. And of course, she said yes. Congratulations to the happy couple! The Daily Prophet wish you many happy years together.

As much as the frills and materialistic items are lovely, sometimes you just need something simple, something beautiful that doesn't have to have cost an arm and a leg. And that's what happened to two of our readers. John Moore, sixty-nine, of Birkenhead, Merseyside, met up with his sweetheart from over fifty-years ago. Having both spent many happy years with other people and having large, loving families surrounding them, they both lost their spouses and felt that void in their life from missing part of your heart. Having spotted her, Glynis Cook, sixty-nine, searching the shelves of Flourish and Blotts, he couldn't believe his luck. Their romance rekindled, and they found happiness again. And all he needed was to promise her that their days together would be happy, no matter how many they had left. As the saying goes, true love never dies.

I wish everyone a happy Valentine's Day, whether spending it with your best friends enjoying a girly pampering day, or a guy's night out playing gobstones. Perhaps you are lucky enough to have someone to shower you with love and happiness, or maybe a night in with the husband and kids is what awaits you. Either way, enjoy!.


INTERNATIONAL : LOVE ACROSS BORDERS
By Cassandra Lovegood
It's the season of love, everyone! And it seems that some people are going along with it, and in the process, making a historical breakthrough! For almost one thousand years, since the year 1054, had the Eastern and Western branches of Christianity split. In Cuba next week, after several years of secret talks, Pope Francis and Patriarch Kirill will have a meeting in an attempt to heal ties broken almost one thousand years ago.

This is the first time in history that the leader of the Catholic Church has met with a Russian patriarch. Patriarch Kirill will already be in Cuba, while Pope Francis will make a brief stop in Havana on February 12th, before continuing to Mexico for a six-day visit. They are to sign a joint declaration with one another.

The Holy See and the Moscow Patriarchate hope that it will also be a sign of hope for all people of good will. They invite all Christians to pray fervently for God to bless this meeting, that it may bear good fruits, the Reverend Federico Lombardi, the chief spokesperson for the Vatican, said to journalists.

Pope Francis is supposed to be welcomed by the president of Cuba, Raul Castro, whom he originally met during his visit to Cuba last September, before the private meeting with Patriarch Kirill. The meeting is supposed to be held at the airport, specifically Havana's Jose Marti International Airport.

Both Pope Francis and Patriarch Kirill are bringing Russian and Spanish translators. The religious leaders are both to sign the declaration and are to make several short statements. There will also be an exchange of gifts.

Cuba was chosen as the meeting place because of its convenience. Patriarch Kirill will already be in the country, while Pope Francis will only have to make a short stop to Cuba. It is also because the country is neutral ground.

Patriarch Kirill might have to deal with a lot of controversy due to his choice to meet with Pope Francis. Until a few years ago, the Roman pontiff was known as the - Patriarch of the West - and church officials in Moscow, Russia have tried to put down rumors of a formal reunification with Rome.

Lombardi said, [Cuba] is place that positioned itself well in the circumstances. The meeting is the effort of over two years of talks between the Vatican and Moscow, Russia. In November 2014, Pope Francis claimed to have spoken to Patriarch Kirill over the phone and informed him, "I'll go wherever you want. You call me and I'll go."

After the declaration is signed by both religious leaders, the contents will not be revealed immediately to the public. However, I'm sure I can speak for all when I say that I hope everything goes to plan!


POLITICS : ROMANCE NOT IN THE AIR AT THE MINISTRY?
By Olive Hoover
It seems that romance is no longer on the plate for Ministry employees. In light of the announcement made by the Ministry's spokesperson, Roberta Jenkins, the Ministry had decided to implement a new office policy regarding relationships between Ministry employees.

The new policy, which aims to minimize sexual harassment claims, as well as to promote productivity, is scheduled to be fully enforced come March 2016. This new policy will be implemented for future use only, giving the already involved individuals within the Ministry safe from reprimand. However, there are talks about placing married spouses in different departments and offices, again, in order to reduce office complaints and to increase productivity.

The implementation of this policy came as a shock to the current Ministry employees. Many have voiced their dissatisfaction with the Ministry's decision to micromanage their love and family life. Clarrissa Smith from the Department for the Regulation and Control of Magical Creatures€Ž went on the record with the Daily Prophet to voice her opinion on this new policy. "It's absurd! There are plenty of things the Ministry ought to try to improve. Why they thought nit-picking at our choice of where to find romance is beyond me! Even as we speak, there is an alarming rate of illegal smuggling of Fwoopers into Great Britain. Why not take care of that and leave whom I decide to date or marry alone?"

Married Ministry employees also found the new policy ridiculous and inconvenient. Couples who have been married for years are now facing the possibility of having to work at different workplaces. Paige and Howard Graham, whom have been married for ten years now, might be forced to work separately. Mr. and Mrs. Graham, who met when they both began working at the Department of Intoxicating Substances, were annoyed by the policy. Mr. Howard Graham had this to say, "Of course it's an inconvenience! We both travel to work together, and now, having to possibly work at different places? What could be so wrong with having my wife here with me? It's not like I sneak off every two seconds for a romantic tumble with her. I'm forty-five, not some dewy-eyed school boy! Personally, I think the people on the committee could use some love in their lives if they dare to think we need more time away from our loved ones!"

The Daily Prophet tried to contact the Policy Committee to get a statement from their representative. However, at the time of printing, no comments were issued on this matter. Roberta Jenkins, however, was very much in favour of this policy. "I think it's a good idea. Take away romance from the office; people pay more attention to their work. Besides, the Ministry is a place where you come to work, and not to find your soul mate."

With the number of employees still voicing out their objection to the new policy, it is unclear if this new amendment would stay in place. We here, at the Daily Prophet, hope that whatever the decision may be, the possibility of finding true love in the workplace shouldn't be squashed.


SPORTS : NEW ZEALAND VS SCOTLAND
By egrounds
It's the midst of February already, which means that Quidditch is back in full swing now that the holidays are over. This also means that I will have my work cut out for me the next few months, going from match to match to bring you the best coverage of Quidditch games and gossip.

One of my sources, who wishes to remain anonymous, informed me over tea last week that Bulgarian Chaser Nikola Vassileva was spotted in a cafe looking quite cozy with one of the team's Beaters, Dimitar Draganov. Will this relationship influence the players' performance in next week's match between Bulgaria and England? With one of their players already in the hospital with a particularly bad case of Dragon Pox, this very well could be a troubling season for Bulgaria.

Before we get ourselves too concerned with the ability of one team, let's review the first match of the new year, between Scotland and New Zealand last Saturday. Scotland was aggressive and maintained a lead of 180 - 120.

The tone of the game changed in what would be the final three hours, keeping everyone at the edge of their seats. Scotland had lost their star Chaser due to a Bludger flying right at the girl's face. New Zealand played that to their advantage, quickly bringing their score to 330 points.

Suddenly, the two teams' Seekers, - Hannah Douglas for New Zealand, and Moyra Darrow for Scotland - dove down in the air, both following the same thing - the Snitch! Douglas and Darrow were neck and neck in their fight to catch what could secure either a win or a tie. Darrow was able to use her speed and agility to capture the Golden Snitch, lunging forward and clutching the Snitch in her hand.

The stands were quiet as the referee walked out onto the pitch. Apparently, Scotland had scored right when the Snitch was caught, and they had to determine whether it was done before or after. The referee, along with an official from the International Confederation of Wizards' Quidditch Committee, sat with a pair of omnioculars replaying all of the action.

The referee walked back onto the field. His voice boomed throughout the stadium. "Scotland made the goal. Final score: 340 to 330. Scotland wins!"

I'd never heard so many cheers at one time in my life. Everyone on the side of Scotland screamed in joy and hugged the person next to them. Even I, admittedly, took part in the celebration.

Big congratulations to the Scotland National Quidditch team. I'm sure all our staff here at the DP send our best wishes to their injured Chaser.

Looking forward to that England v. Bulgaria match next week; it's sure to be interesting.


HEX REPORT
By HEXanonymous Writer
Silly Squid Tank!
The Squid Tank! A new, lovely economy contest in Diagon Alley has sprung up, and my, has it flown by already. Twenty contestants were given twenty beans each, and told to profit from them how they could.

Show the squiddies some love, y'all! Of course, that's difficult now that the first monumental round of the contest is over, landing Contestant Phi over a million Galleons in only a single week. Not an easy feat, I'm sure you'll agree.

However, not every squid could make it through. The tide caught up to five of them, and they left the competition with a Gold Cauldron each and 1,500 House Points between them. Commiserations to Samantha Bradley, Joe Hunters, Nicole Phelps, ccswimmer57 and Zeraphiel, who nevertheless did very well.

The remaining fifteen competitors are in Goblin City this week. Not so much audience interaction, but plenty of goblins to keep the squiddies company. And plenty of Galleons too, for they began with 25,000 each. Each squid has a week to increase this amount as much as they can using only methods available in Goblin City, so good luck to them!

Excellent Estranged Beasts
Estranged Beasts is an event as flighty as a unicorn. It's slipped past us already, the devious creature, but it was nevertheless very fun! Hosted by the lovely Gryffindors, this event has allowed us to get up with unicorns, crazy with chimaeras, awesome with acromantulas and happy with hippogriffs, all within the most infamous place at Hogwarts - the Forbidden Forest.

HEXmas was a hard act to follow, but I'd say that the Gryffindors did a pretty good job! The event even gave people the chance to win the elusive new Unicorn Hair item in a Random Event. Congratulations to those who got it!

Magnificent Metamorphmagus and the Beast
And speaking of Random Events, I hear that a new one has been doing the rounds. Could it possibly have anything to do with the new Valentine's Day event hosted by the lovely Hufflepuff? A chance for Teddy Lupin to meet his parents, if only in a wonderful dream. I'm sure that it'll be wonderful!

Crazy-new Cards
Planning on buying a t-shirt? A sticker, perhaps? Well, why not? After all, when you spend over ten dollars you can get one of the revamped redeem cards. Each of them gives you the opportunity to get some Galleons or items, with some lovely new items included in this as well as a very pretty new card design. Thank you!

Marvellous Magical Archivists
I do believe that some congratulations are in order. The three new Magical Archivists deserve a mention, don't you think? ArabellaMarie, bizarre and Briannabreez are the three who have stepped up to the job, and I am sure that they'll do it well.

Quite Awesome Quidditch
Speaking of ArabellaMarie, she is just one of fourteen players in the Quidditch match between Ravenclaw and Hufflepuff. As I write this, Hufflepuff are ten points up and the game is three rounds in. Go, go, Gryffin - oh. Perhaps not, then. I think that the excitement of the game has gotten to me!

An Important Amnesty
Due to the daily discoveries of multiple accounts, the staff working on stopping this decided that enough was enough. If you have a multiple account, you can come forward and you will be allowed to keep an account. However, if you are going undercover and are caught, all of your accounts will be deleted. So come forward! You know who you are - and HEX is such a great place, surely you don't want to be removed forever?

Phew! That's a pretty large list. Of course, there's always more that I can't possibly squeeze into a single article. Stay safe and keep reading, and I bid you farewell!


ASK US!
By Angelblade
"So I'm heading to Hogsmeade to buy my girlfriend some roses in a vase and a box full of chocolates for Valentine's Day. I get there, and they're all out of stock! What am I to do?"
~ Love Anxiety

Hey there! I'm not in a relationship myself, but here's the best advice I can give. First things first, don't panic. I'm sure Madam Puddifoot will refill her inventory once more.

In the meantime, because you can't rely on something you don't have, brainstorm other ways to make her happy. You could always take her to a nice field of flowers and watch the sun set on the horizon. Whatever you do, be creative! I'm sure she'll like what you come up with.
Malaika

---

"I've lost interest in my boyfriend; I've started seeing someone else. I've caught wind that he has something really big prepared for Valentine's Day, so I don't want to hurt his feelings. What should I do?"
~ Feeling Sentimental

Seems you've got yourself stuck in a predicament. Well, the first thing is open up about it before you do anything else. No one wants to be lied to. No one.

If you're seeing someone else, tell your boyfriend about it, in a nice way of course, so you don't disappoint him in the end. It's better to tell the truth now than to build up weeks of secrets. I don't know about you, but by then, the normal person would continue keeping secrets and end up in a situation much worse than the one they started off in.

Make sure this person you're seeing loves you back. Don't give up on someone worthy of your love for someone who takes it for granted. I wish you luck!
Malaika

---

"So there's this girl I like in my Charms class. I tried to tell her I liked her in a couple of different ways. I sent her a card, but it malfunctioned and attacked her. I tried giving her a gift, but I tripped and spilled it all over her. I have me a batch of Amortentia; I could always spike her drink with it."
~ Ambitious for Love

You had better put that potion under lock and key. One, she and her friends could be reading this right now. (You listed two scenarios; she can definitely identify you.) Two, not even a potion can create love, just an obsession. After a while, you'll get tired of having someone obsess over you.

It seems the problems start when you send something to confront her. When you can't go to her, bring her to you. You can always resort to making an alluring path for her to follow with something really cool at the end. Have fun with it!
Malaika

---

"I'm an exceptionally nice person, and I'd like to give out small gifts for Valentine's Day. Any ideas?"
~ Giving with Kindness

Good question. How about you stop by some user stores and pick up some sugar quills? Or maybe a box of chocolates? Get something nice, but don't overdo it.
Malaika

---

"I'm not in a relationship, and I don't want to be in one either. Valentine's Day is coming up, and all my friends will be out with their dates. I'm not interested in anything romantic - what should I do?"
~ Bored Alone

Welcome to the singles' club. If you're on your own, you might as well use this day to treat yourself. Go and spend a day at Hogsmeade, or brush up on those cool spells and potions of yours. Chill in the Room of Requirement, or go on some sort of adventure. It's your day, you deserve it. Show your appreciation for yourself and do whatever you want, even if it includes sleeping in bed all day.

Enjoy yourself, and have a great day!
Malaika


STARBURST! : LOCKHART LOVIN'
By BLMB
With Valentine's Day up and about, there's no doubt that lots of people have been fussing over it. It's not like I disagree with the idea. I mean, I do like it, yes, but I feel like it's just too overused. I feel like it's an excuse for people to spend on their loved ones just so they could show them that they can. I feel like it's another means to commercialize something that isn't even meant to be celebrated.

You're all probably saying I'm being bitter about this because I have no one to celebrate this, but I've already deliberated over that. I actually AM happy for the people who can celebrate Valentine's. Heck, I'd be even happier if you manage to do something amazing for the person you love. What I don't like is when other people try to force it on everybody else. I don't want to celebrate Valentine's day because you tell me to celebrate it. I want to celebrate it because I want to, if that makes sense?

Sorry, I'm ranting now. What I'm trying to say is that there are other people who celebrate it rather oddly, and it's those really odd occasions that force me to celebrate Valentine's that irks me. I probably sound so two-sided on this, but hear me out.

Gilderoy Lockhart, "Duelist Extraordinaire" and "Expert In All Things Magical", has once again found a way to celebrate Valentine's Day. Around a month before the festival of love, he made stand or kiosk of sorts outside of the Great Hall. It was odd enough for a teacher to be doing this because why in the world would professors need kiosks, right? Upon approaching it, however, I found what made it even weirder.

He had his own Valentine's fanmail service. His idea was that he wanted to share all the "love from his fans" to the "less fortunate people who don't receive it". The concept was nice, actually, and quite thoughtful, considering it was Lockhart we were talking about. I decided to try it out and wrote a note to one of my friends. Just out of curiosity and to experiment. I saw other people doing the same, and it actually looked like his stand was going okay.

The following day, I saw him dressed up in a CUPID outfit, holding a bow and arrow in his hands. It was a legitimate Cupid outfit. The diaper, heart arrows, even the half-nakedness (mind you, that bit I'd rather have not seen). He had all the notes from the previous day and began reading them aloud to the person it was meant for. He signed all notes as "Anonymous", so it wasn't too much pressure on the person who wrote it.

The idea started looking better than my initial doubt about it. And then... he said it: "Fanmail for Mr. Gilderoy Lockhart!" It was no surprise that he'd be receiving "fanmail", but I wondered WHO would've given it. Was it Professor Snape, so bent on having Lockhart fired from Dueling? Was it Lockhart's -gasp- secret admirer? The former was more plausible, but I'm pretty sure the man wouldn't have allowed that. Why would he read horrible fanmail, after all?

He had about four for him that he read aloud for everybody to hear. Which, again, didn't make sense because WHO would even write these? It kept happening day after day after day. He'd give everyone's notes, then read those that he 'received'. He even received roses once! Roses!

Like... who even would give that to him?

Honestly, if you ask me, I think he writes the fanmail himself, just so he has more reason to praise himself. It's totally possible, especially for a man like Gilderoy Lockhart. Then again, I suppose we can give him the benefit of the doubt and believe that he does have admirers. Again, this possibility is something I don't fully agree on, but I suppose I could be wrong.

How about you, dear readers? What do you think? Is this Cupid service Lockhart made a good idea? Is it something you think he should continue doing? Or do you think this is all a means to make his overinflated ego even bigger?

I don't know what his intentions really are for it, but I genuinely think and believe he did this for himself. But hey, to each his own, right? After all, what's wrong with being your own Valentine?


AUNT EDNA'S : VALENTINE WOES AND WORRIES
By Briannabreez
Now, dear reader, I know what you're thinking. 'You're so young! You can't possibly have any experience with Valentine's Day!' Well, I'm more experienced in the art than you may think, and I do in fact have some tips and tricks of my own!

My first piece of advice for Valentine victory is to pick the right person. All the chocolate in Honeydukes won't help if you don't like who you give it to! And if you ask me, it might be a little late already. If they don't like you now, this short time probably won't be quite enough time to get to know them well enough. But it's still worth it! Oh, it's definitely worth it, most definitely. Don't think of them as your Valentine, think of them as a future partner. Of course, a dog isn't just for Christmas, but a partner isn't just for Valentine's Day either!

So, let's say you know this person, and you like them, and you do definitely want to be their Valentine (and hopefully they want to be yours)! How do you find out whether or not you really will be together? Well, unfortunately, there's only one thing for it (and it's terribly nerve-wracking, I know, but you just have to do it) - you have to ask them.

A bunch of flowers might be nice, but make sure they're fresh; you wouldn't want to give your date wilted flowers, would you? Roses are a popular choice, but if you know that they like a different flower, give them that! They'll appreciate the thought you put into it. If they have a green thumb, you could even consider a potted flower that they could tend to and keep for longer. I can't count the amount of flowers in my back garden! Just make sure you avoid the honking daisies. Valentine's Day 1964 is one I won't be forgetting in a hurry, that's for sure!

Now, I imagine that there will be some Hogwarts students reading this. If you're in third year or above, you could always ask your date to Hogsmeade! When I was at Hogwarts, we were always able to visit during the holidays, and Valentine's Day was one of the very few days where it was always a Hogsmeade day. Of course, it might have changed now; I'm not so in the loop as I was. But if it's an option, I would grab it and run if I were you!

Following from that, if your date gives you the option to pay for them, you could always try to. They may want to return the favour, in which case you can work something out between you, but try not to argue about it.

Oh, and there's always the option of baking something. I hear that the recipe column has some good ones, so you could always try that! After all, the way to the heart is quite often through the stomach.

That should be everything, dears, and I hope that you have Valentine victory and not just a vain attempt.

Lots of love,
Aunt Edna


MONTHLY RECIPE : VALENTINE-CONVERSATION HEART COOKIES
By Lunahermione1
February is synonymous with Valentine's Day. Are you freaking out about a nice dessert that will express how you feel and still taste delicious? Well, here is an idea to make your mouth water - Valentine Conversation Heart Cookies.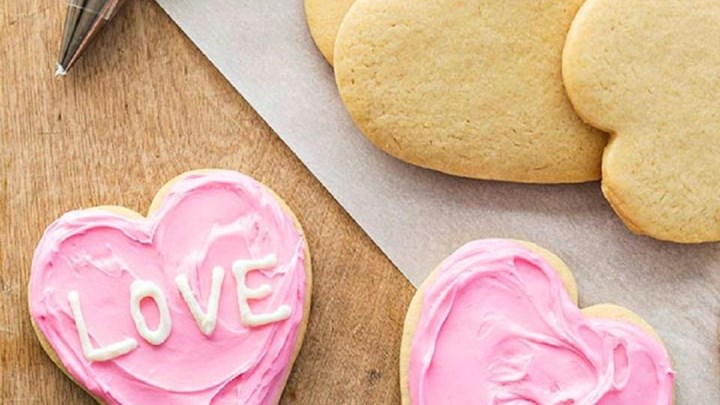 Ingredients :
2/3 cups of butter
3/4 cups of sugar
1 teaspoon of baking powder
1/4 teaspoon of salt
1 egg
1 tablespoon of milk
1 teaspoon of vanilla extract
2 cups of flour
16 ounces of vanilla frosting
Food coloring
Directions:
1. Preheat the oven to 375F.
2. Spray the cookie sheets with cooking spray.
3. Beat butter in a large bowl with an electric mixer on medium to high speed for 30 seconds.
4. To the same bowl, beat in the sugar, baking powder and salt until it is all properly mixed.
5. Next, add in egg, milk, vanilla and all the flour, and mix it with the mixer.
6. Split the dough in half.
7. Take one half of the dough and roll it out with the rolling pin. Repeat with the other half of dough.
8. With one rolled-out dough take the cookie cutter and cut out however many cookies possible. Repeat with the other half of the dough.
9. Put the cookie dough shapes on the cookie sheets about 1/2 inch to an inch far apart from each other.
10. Bake for six to eight minutes until the cookies are very light brown and their edges are crisp and firm.
11. In another bowl, tint the frost with the food coloring to your desire.
12. Optional : You can also frost the cookies one color and pipe on words or messages such as "I love you," or "Valentine's".
Even if these are not your go-to homemade treat this Valentine's Day, I am wishing you a lovely Love Day, with the hope that you enjoy it to the fullest extent.
LunaHermione1, over and out.
ON THE STREETS : FEBRUARY, THE MONTH OF LOVE
By titanicfan101

Welcome to February everyone. This month holds Valentine's day. Valentine's Day is a special day for couples. I hit the streets to see what people on HEX do for this special day! Here are some of the excerpts from my conversations :

Well, we try to avoid eating out that night because restaurants charge a lot more. So if we eat out, we go the evening before or after.

The very first Valentine's I spent with my then fiancee, I bought him a See's tuxedo heart box of chocolates. For the past 20 years, I have filled that very same box for him every year with his favorite marzipan chocolates. And I give him a card with it.

My husband usually gets me flowers and a card. The very first Valentine's we had, he gave me a ruby and diamond necklace, which was quite extravagant.
~ Goldmist (Gryffindor)

I am engaged and I personally do not celebrate Valentine's day. I believe it is a waste of money, and it is just a money-getting gimmick. I don't believe that there should be a set day of love; why can't it be every day, any day?

In relation to romance, I find that small little surprises are the best. From a small little note to a surprise evening out, to buying your partner something they have been eyeing for a while. I believe that is one of the romantic things you can do.
~ Dessmiley (Hufflepuff)

I make cards with garish, solid colours, badly cropped pictures and Comic Sans.
~ SatNav (Ravenclaw)

Hrmm, I'm down for lounging around watching sappy movies such as Titanic, P.S I Love You, Phantom of the Opera. and eating delicious, but easy food. It's all about being comfy and having fun. (And waiting for the half-priced candy day the next day)
~ Sara (Slytherin)

For Valentine's Day, I don't go overboard with my boyfriend about it. Sometimes we go out to dinner or we cook something a bit different at home and we give each other a card. That's about it.
~ Chrissymay (Hufflepuff)

With the responses I got on the streets of HEX, it seems that a lot of people don't do a lot for Valentine's day. This has been a tough year already due to the snow storms everyone has gotten, but we here at the Daily Prophet, hope that this Valentine's day will turn everyone's year around.

From all of us at the Daily Prophet, and to all Hexians: we hope you have a great Valentine's day and may love be with you this year!


DAILY PROPHET STAFF
CO-EDITORS
Samantha Bradley
Kay85

WRITERS
Angelblade
BLMB (Char)
Briannabreez (HEXanonymous Writer)
Cassandra Lovegood
egrounds
HaleyLupinTeddysGirl
kay85 (Olive Hoover)
LunaHermione1
Rosie_may
ScarletAuror (Hiatus)
TenleyandtheNargles
titanicfan101
Ygdjh (Hiatus)

JUNIOR CODERS
Rachel McAdams
Ygdjh


---
Should you wish to participate in the Daily Prophet as a guest writer, please send an owl to THE DAILY PROPHET with your submission.